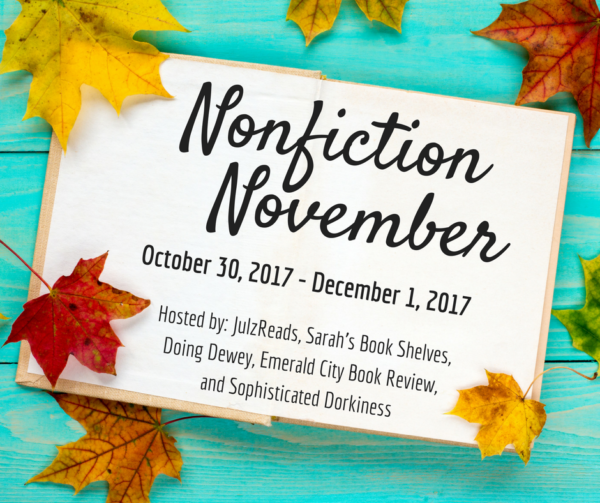 You guys, I had such a good time reading all the posts for this week's Nonfiction November prompt, Be the Expert/Ask the Expert/Become the Expert. I'm sorry this wrap up is getting published so late, I had a crazy week and just finished commenting on the last post a few minutes ago.
Here are the bloggers and topics that made up this week's prompt. Be sure to click over to those you haven't read yet, or those topics that are especially interesting to you (especially those near the bottom of the list) — a lot of them were really creative:
Heather at Based on a True Story — People Forced to Leave Their Homes
Kazen at Always Doing — Doctors Doing Their Thing Awesomely
Unruly Reader — Self-Improvement Books
Kate at booksaremyfavouriteandbest — Books About the Intersection Between Our Physical Being and Psychological Being
Julie at Julz Reads — Mountains
Beth at Too Fond — Raising Children With an Awareness of Nature
Emma at Words And Peace — France
Katherine at Writerly Reader — Folklore in the Digital Age
Kim at Time2Read — U.S. Presidents
Lindsay @ Lindsay's Library — Dogs, Animals, Exploration, History, Medicine, Science, Travel, War
Lory at Emerald City Book Review — White Trash and Hillbilly Elegy
Anne@ Head Fullof Books — Mental Illness and Abnormal Psych
Juliana at Wild Places — Maritime Disasters
raidergirl3 at an adventure in reading — Feminist Theory 101, Biology Topics, and Black History Month
Eva at The Paperback Princess — Hollywood
Maphead's Book Blog — Iran
Iliana at Bookgirl's Nightstand — Bookbinding
Trav at HeadSubhead — Bookshops
Tara at Running 'n' Reading — Staying Injury-Free
Sarah at Sarah's Bookshelves — Reading and Writing Life
Angela at Literary Wanderer — Female Heroes
Susie at Novel Visits — Women and World War II
Nick at One Catholic Life — Spiritual Reading
Deb at The Book Stop — U.S. Politics and Current Events
Heather at Gofita's Pages — Death and Dying
Kristilyn at Reading in Winter — Memoirs
JoAnn at Lakeside Musing — Books About Books
Buried in Print — Residential School System
Literary Lindsey — Gardening and Local Eating
Novels and Nonfiction — World War II
Carrie at Other Women's Stories — The Kennedy's
Jessica at The Bookworm Chronicles — Christian Nonfiction
Brona's Books — The Holocaust
TJ at My Book Strings — History and Development of Free Speech
Tina at Novel Meals — Ex-Pat Literature
Thanks to all who have participated so far! Next week's host is Katie at Doing Dewey who will be asking about Nonfiction Favorites:
We've talked about how you pick nonfiction books in previous years, but this week I'm excited to talk about what makes a book you've read one of your favorites. Is the topic pretty much all that matters? Are there particular ways a story can be told or particular writing styles that you love? Do you look for a light, humorous approach or do you prefer a more serious tone? Let us know what qualities make you add a nonfiction book to your list of favorites.