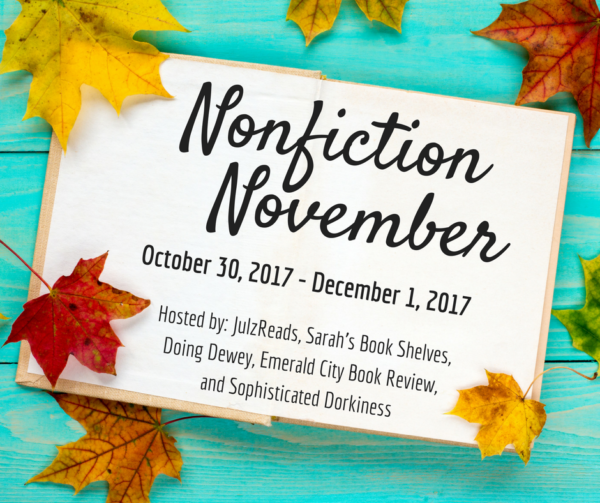 Anyone else shocked that November is almost over? I can't believe it myself. This week's host for the final prompt of Nonfiction November is Lory at Emerald City Book Review who is asking about books that are New to My TBR: 
It's been a month full of amazing nonfiction books! Which ones have made it onto your TBR? Be sure to link back to the original blogger who posted about that book!
I have to admit, I haven't been as engaged with Nonfiction November as I hoped to be. Other than the week where I hosted, I didn't get a chance to go out and visit other bloggers much at all… I blame a month more full of life commitments than I would like and the fact that I started a new job in late October. I'm still adjusting, and blogging seems to have taken the biggest hit.
But, I still managed to add several books to my toppling TBR pile. Here are a few:
And with that, we're at the end of another awesome Nonfiction November! Thanks so much to everyone who has participated in some way — responding to the prompts, leaving comments, sharing photos on Instagram, whatever. Even though I've been a bit on the fringe, I'm so glad to see this event thriving.
And a special thanks to all of this year's co-hosts — this event literally wouldn't happen without all of you. Give a round of applause for Julie (JulzReads), Sarah (Sarah's Book Shelves), Katie (Doing Dewey), Lory (Emerald City Book Review) and Leann (There There Read This). You ladies are awesome!