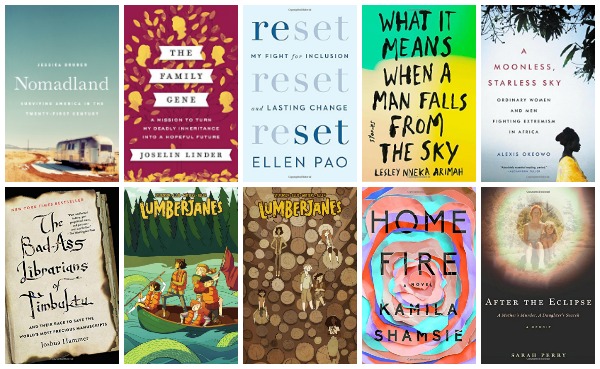 Whew, October. It was a big, busy month that seemed like it flew past me with great speed. Thinking about Nonfiction November must have gotten me excited, because a good chunk of my reading this month was already nonfiction. I kicked off October with three great true stories, and managed to finish plenty during the Readathon as well. Here's what I read last month:
I am hard-pressed to pick a favorite — they were all great reads. The only book that felt disappointing was The Bad-Ass Librarians of Timbuktu, but that was mostly because I was expecting a sort of rompy heist book, and it was instead a pretty serious look at the rise of Islamic extremism in Africa. Important, but just not quite what I was expecting. Someday I will get back in the practice of writing book reviews… this is just not that day.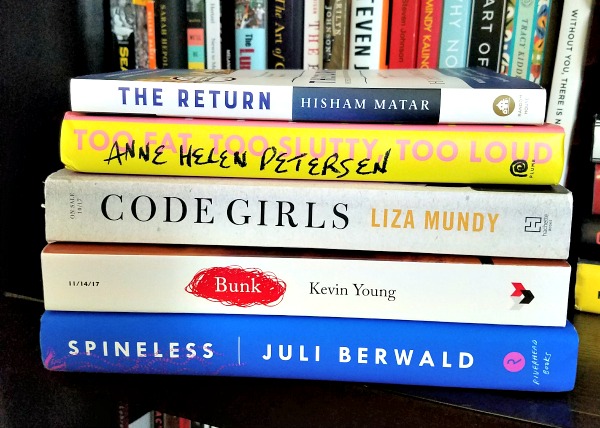 A Look to November
Just as November was kicking off, two fiction books I've been on hold for at the library FOREVER came in… so I'll probably be making time to read Bluebird, Bluebird by Attica Locke and The Seven Husbands of Evelyn Hugo by Taylor Jenkins Reid this month. But other than that, my entire TBR is nonfiction! Here's what's in the queue:
The Return by Hisham Matar — I need to finish this one up before my book club meeting this weekend, so it's top of the list.
Reading With Patrick by Michelle Kuo — I just got a notification this memoir about "a teacher, a student, and a life-changing friendship" came in for me at the library, so it's top of the list too.
Code Girls by Liza Mundy — There no excuse for the fact that I stalled out half way through this book… it's really good, I just stopped. So, I'm going to finish!
Bunk by Kevin Young — Graywolf Press nonfiction is so great. I am all in for a book on the history of hoaxes, alternative facts, and fake news.
Spineless by Juli Berwald — This is a book about jellyfish!
Too Fat, Too Slutty, Too Loud by Anne Helen Petersen — How many times do I have to say I am going to read this book about unruly women before I actually finish it. Only time will tell…
There you have it, a peek back at my October reading and a peek ahead to what I'm hoping to finish in November. If I can keep myself from wasting time on social media on my phone, I think it will be a great month of reading.
What books are you excited about in November?