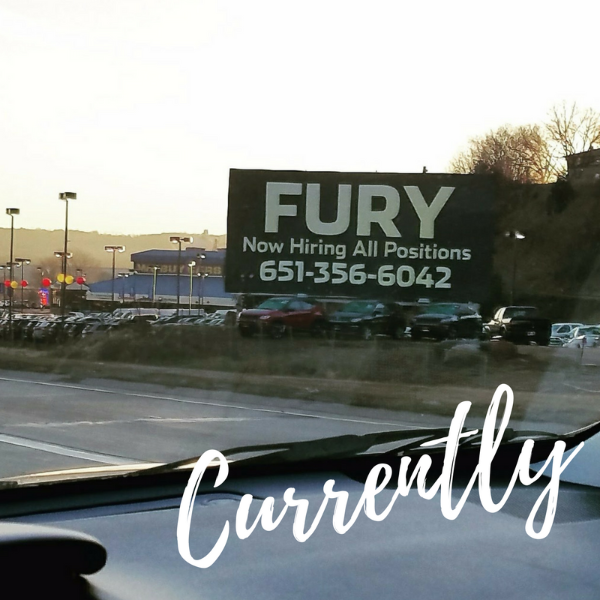 Around Here | It's a lazy Sunday morning here in Minnesota. My sister and I hosted a holiday party with a boozy hot chocolate bar last night, so we're all moving a little bit slowly this morning.
Reading | It's 10 days into December and I haven't finished a book! I got sucked into read a book on Edward VIII, his abdication, and how he was basically a Nazi. It was interesting, but I also think my patience with stories about mediocre white dudes dealing with problems of their own making is low, which made it hard to pick up. So, I'll be sending that on back to the library and digging into two books that fit my mood better — This Book is Overdue! by Marilyn Johnson and Alias Grace by Margaret Atwood.
Watching | On the whole, it's been a good fall tv season. I've continued to love The Good Place, Brooklyn Nine-Nine, black-ish, and Speechless. And a couple of new shows — The Mayor and Ghosted — have made their way into our rotation. However, the highlight of this season has been The Big Family Cooking Showdown, a cooking show with some of the same DNA as The Great British Baking Show. It's been a delight to watch after a long day.
Listening | Our party playlist last night was Spotify's Christmas Pop list, which was pretty delightful.
Feeling | There's this billboard on the highway on my drive to work — "FURY. Now Hiring All Positions." It's for an auto dealership, but it pretty well sums up how I'm feeling about being a woman in the world right now.
Loving | For the last month, my sister and I have been doing a community education class on beginning watercolor painting. I've been having so much fun with it. I've never been an artist, but there's something really meditative about the process that I'm enjoying.
Loving II | My new job, as social media specialist for a county library system, is so great. I like my coworkers, the work is challenging, and the pace of the job feels more manageable. It took awhile to find, but every day I'm more confident this is where I was supposed to end up.
Pondering | As the year comes to a close, I've started thinking about what my One Little Word will be for next year. I didn't do much publicly with my word (joy) this year, but it's often been on my mind and part of what I tried to explore during my job search. I have a few ideas for 2018, but I want to sit with them more to see what feels right.
Happy Sunday, everyone! What are you reading today?