It's the last day of the year, and I want to share some of my favorite books from 2017!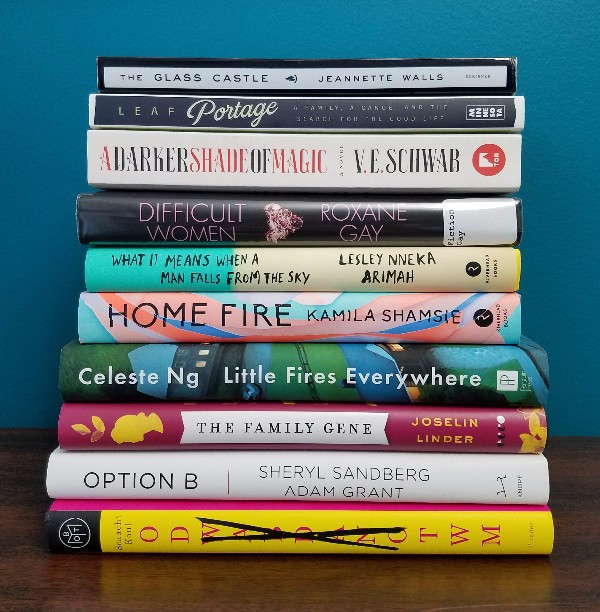 Despite my reading coming at a slower pace than in the past, I feel pretty satisfied with all of the books I've read over the last 12 months. I finished 78 books, which amounts to 22,928 pages and 28.5 hours on audio. About 33 percent of the books I read were written by people of color, and around 70 percent were written by women. In a shift from the way I used to read, the books I finished this year were skewed towards fiction (58 percent) rather than nonfiction (42 percent). I'd like to swing that trend in the other direction in 2018, but we'll see what happens.
But, enough with the stats! I'm sure you just want to hear about the books. In no particular order, here are my top five favorite fiction and top five favorite nonfiction books of the year (with some honorable mentions somewhere in the middle).
A Darker Shade of Magic by V.E. Schwab
I kicked off my reading year with the first book in V.E. Schwab's Shades of Magic Trilogy. The series is set in a world where parallel versions of London – some with magic, and some without – sit on top of each other. Kell is a magician with the rare ability to travel between worlds, which he does officially as an ambassador from Red London, and unofficially as a smuggler sharing glimpses of other worlds to those who can't travel. During one visit to Grey London, a world without magic, Kell meets Delilah Bard, a common thief with uncommon abilities. As the trilogy continues, the world expands to include an eclectic, dangerous cast of characters that I adored. I can't wait to read more from Schwab.
Difficult Women by Roxane Gay
Roxane Gay is one of the smartest writers out there, and I was totally floored by her short story collection. The women at the center of each of these stories are fierce and funny and real, put in impossible situations yet making their way through them. I loved how unique and focused each voice was – these women speak on some universal issues, but each from a specific place and a specific personality. This collection is just on fire.
Little Fires Everywhere by Celeste Ng
I knew that I was going to love Little Fires Everywhere from the first line: "Everyone in Shaker Heights was talking about it that summer: how Isabelle, the last of the Richardson children, had finally gone around the bend and burned the house down." The book follows two families led by two very different women, and how the collision between respectability and creativity can affect families and communities. Along with compelling characters, the politics of race and class in this book were super interesting to me.
What It Means When A Man Falls From the Sky by Lesley Nneka Arimah
More short stories! This debut collection "explores the ties that bind parents and children, husbands and wives, lovers and friends to one another and to the places they call home." I loved that every story in this book, and was impressed with the way that each one felt like it was pushing in the direction of a different genre. After reading it, I can't even predict what kind of novel Arimah might write, just that it would be feminist, sharp, and subversive in all the best ways.
Home Fire by Kamila Shamsie
I'm rounding out this list with Home Fire because it had, hands down, one of the most surprising and affecting endings of any book I read this year. The novel follows three siblings, and explores what happens when one of them, Parvaiz, follows in the footsteps of his jihadist father and joins ISIS. His oldest sister, Isma, returns from studying in the United States to try and help through official channels. His twin sister, Aneeka, works in her own way, trying to prove that Parvaiz isn't terrorist. Each section of the book focuses on a different character, creating this kaleidoscope effect that comes together brilliantly. This book is a stunner.
And a few honorable mentions for other fiction I read and enjoyed a lot this year: Perfect Little World by Kevin Wilson, In the Language of Miracles by Rajia Hassib, Uprooted by Naomi Novik and Wonder Woman: Warbringer by Leigh Bardugo.
Option B by Sheryl Sandberg and Adam Grant
I wouldn't necessarily call Option B my favorite book of the year, but it's certainly the book that had the biggest impact on me given the major challenges in my life since 2016 (widowhood and six months of unemployment). In the book, Sandberg and Grant explore "facing adversity, building resilience and finding joy" after significant loss and setbacks. The book alternates between Sandberg's memoir of losing her husband, David, unexpectedly, and what current research says about human resilience. Given that so much of my last year has been taken up by this very topic – surviving loss and rediscovering the things that make life joyful – my love for this book is very much a matter of right place, right time, but I still think it's an excellent book.
One Day We'll All Be Dead and None of This Will Matter by Scaachi Koul
I blurbed this book for Book Riot's Best Books of 2017 collection, so I'm going to cheat a little bit and rehash what I wrote there, This debut essay collection is about "growing up the daughter of Indian immigrants in western culture, addressing sexism, stereotypes, and the universal miseries of life." Koul is great at moving easily between funny and poignant moments. The stories about her parents contain a fair amount of frustration, but she always writes about them with a sense of generosity. Chapters are punctuated with brief email exchanges between Koul and her father that are succinct, funny, and give some depth to the last (and best) essay in the book, about the consequences Koul faced telling her parents about her long term relationship with a white man.
The Glass Castle by Jeannette Walls
I finally got around to reading this memoir, and I am so glad I did. In the book, Walls writes about her non-traditional, poverty-stricken upbringing by parents who could be loving, spontaneous, neglectful, and abusive in many of the same moments. Despite the obviously terrible circumstances of her upbringing, Walls writes about her family with a lot of love and tenderness, and brings an adult perspective to her parents that I think is an important part of making the book seem less bitter than it could have been. It's a remarkable piece of work that's earned accolades.
Portage by Sue Leaf
This is, perhaps, the most unexpected great book of my reading year. I picked up this memoir while on a trip to the North Shore of Minnesota and absolutely devoured it. Leaf writes about her family's experiences as canoeists, beginning with early trips to the Boundary Waters with her husband and ending with local river excursions with her grown children and their families. It's a fascinating book about nature, wild places, relationships, and lessons we can learn when we let ourselves explore somewhere new. I totally loved it and have gushed about it pretty constantly ever since.
The Family Gene by Joselin Linder
I love good medical mystery nonfiction, and this book certainly did not disappoint. For years, members of Linder's family have come down with a deadly illness that doctors cannot explain. As Linder struggled to understand her own version of the illness – a blocked liver, swollen legs, and a heart murmur – researchers she spoke with suggested that the illness haunting her family may actually be a private genetic mutation. In the book, Linder explores her family's medical history, the development of gene science, and what it's like to be a young woman with a potentially fatal mutation making choices that would affect generations to come. I was gripped by this book from the first page, and will be recommending it often.
And finally, my nonfiction honorable mentions. All of these books were excellent too: Cork Dork by Briana Bosker, Dark Money by Jane Mayer, Evicted by Matthew Desmond, Wedding Toasts I'll Never Give by Ada Calhoun, What Happened by Hillary Clinton, Reset by Ellen Pao, and Killers of the Flower Moon by David Grann.