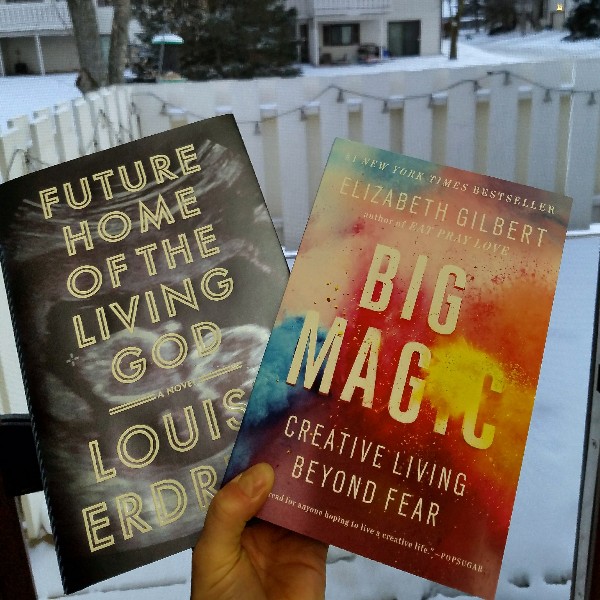 Every year, fellow blogger Sheila at Book Journey put out a prompt for bloggers and bookish people to share their first book of the year. I didn't get around to sharing my first reads in Sheila's post, but I did want to write about them here because there were both books that made me think a lot (some good thoughts, and some bad!).
Future Home of the Living God by Louise Erdrich
The world as we know it is ending. Evolution has reversed itself, affecting every living creature on earth. Twenty-six-year-old Cedar Hawk Songmaker, adopted daughter of a pair of big-hearted, open-minded Minneapolis liberals, is as disturbed and uncertain as the rest of America around her. But for Cedar, this change is profound and deeply personal. She is four months pregnant. Though she wants to tell the adoptive parents who raised her from infancy, Cedar first feels compelled to find her birth mother, Mary Potts, an Ojibwe living on the reservation, to understand both her and her baby's origins.
Louise Erdrich is one of my favorite writers, and I love books on dystopian worlds, so I had high expectations for my first fiction book, Future Home of the Living God. I was hoping it would be somewhere between The Handmaid's Tale and The Round House, bringing together elements of feminist dystopia and the particular challenges facing modern Native American communities. While the things I've loved in Erdrich's other books – a page-turning plot and beautiful writing – were still there, I felt like the novel struggled to find a point of view and bring together the strands of the story in a satisfying way.
For the most part I enjoyed Cedar as a narrator, but I didn't find a 26-year-old girls musings on Catholic theology to be very interesting… and there are kind of a lot of them in the book. An early section of the book where Cedar goes to visit her birth mother in order to find out more about the genetic issues her baby might have felt rushed and incomplete. I also felt like Erdrich didn't settle on how to handle the dystopian elements of the story. In parts it felt like things were explained too much, and in other parts too little, and so in the end it just didn't work very well. I'm disappointed that a book I was hoping would be excellent ended up being just fine… but I suppose things can only go up from here!
Big Magic by Elizabeth Gilbert
Readers of all ages and walks of life have drawn inspiration and empowerment from Elizabeth Gilbert's books for years. Now this beloved author digs deep into her own generative process to share her wisdom and unique perspective about creativity. With profound empathy and radiant generosity, she offers potent insights into the mysterious nature of inspiration. She asks us to embrace our curiosity and let go of needless suffering. She shows us how to tackle what we most love, and how to face down what we most fear. She discusses the attitudes, approaches, and habits we need in order to live our most creative lives. Balancing between soulful spirituality and cheerful pragmatism, Gilbert encourages us to uncover the "strange jewels" that are hidden within each of us.
My first nonfiction book of the year was Big Magic by Elizabeth Gilbert, a book about the challenges and joys of pursuing a creative life. This book called to me because of where I'm at in my own life – trying to return to blogging, a creative pursuit that I love, and just starting out with watercolor painting, a creative pursuit that is completely and utterly new. I want creativity, exploration, and play to be a big part of 2018, so this book felt like it would give me the pep talk I need to get started.
Initially, I was worried the book was going to be a little bit too squishy for me. Gilbert writes about creativity and inspiration as these sort of divine interventions of the universe, which just felt a little silly. But as I got into the book, I started to appreciate that behind the belief in inspired creativity, Gilbert has a lot of specific advice about cultivating diligent and joyful work habits that foster the space needed to be creative in any pursuit. She writes about fear and courage and permission and freedom in ways that I hadn't thought about before, and challenges a lot of the ideas people have about what it means to make creative pursuit part of your life. I loved it.
After finishing those two books I felt a little bit adrift. Right now I'm reading a couple of new January releases — The Immortalists by Chloe Benjamin (fiction) and The Milk Lady of Bangalore by Shoba Narayan (nonfiction). I'm not far in either, but so far so good!
What books are on your plate for January? What book did you choose for your first book of the year? Any special significance to that choice?