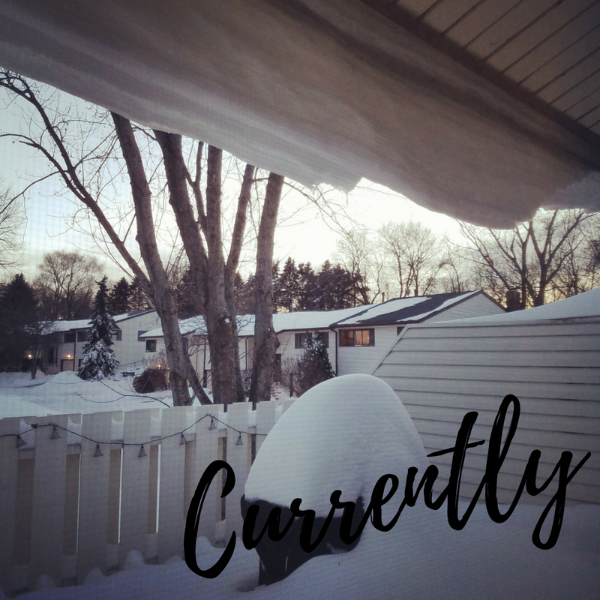 Around Here | It's been a strange week! On Monday, a major snowstorm hit the Twin Cities area, dumping around 8-12 inches of snow across my neck of the woods. It was a super weird storm too. The morning commute was totally dry, with the worst of the snow not hitting the area until mid-afternoon. I was lucky enough to work at home for the day, but used the storm as an excuse to do absolutely nothing else that night. Past Kim was happy to spend the evening binge-watching episodes of ER, but Present Kim is regretting that decision because of how far behind in life I currently feel. C'est la vie.
Reading | I'm in the middle of two books right now, both of which will count for Book Riot's Read Harder Challenge and both of which I took out from the library. The first is a mystery written by a person of color, Murder on the Red River by Marcie R. Rendon, which I expect to fly through pretty soon. The second is a book about nature, The Evolution of Beauty by Richard Prum, a chunkster of a book about Darwin's other theory of evolution, mate choice. It's not a book I would have otherwise picked up, but it's my next book club selection and I am committed to giving it a try.
Watching | A few short months after I started wishing that I could watch ER, Hulu has made my dreams come true. My mom used to watch the show regularly, but I don't remember watching it with her. It's fun to see younger versions of actors I'm familiar with now, and think about how medical procedurals have evolved since this show aired. Also! Baby Bradley Whitford in S1E18 was amazing.
Listening | My goal to listen to one audio book each month is off to a good start. I just finished the second book in Deanna Raybourn's Veronica Speedwell mysteries, A Perilous Undertaking, and am eagerly awaiting the next book from the library. The series, about a spunky Victorian Era butterfly collection/amateur sleuth is a total delight.
Cleaning | Last weekend, I finally got fed up with the stacks and stacks of unread books piling up around my living space. My sister challenged me to get rid of 100 unread books, and I was victorious! One hundred four books are now in bags ready for sale, donation, or friendly giveaway. All of my books are on shelves, and there's actually a little wiggle room between them. Huzzah! (Also, I know how absurd it is that I could get rid of 100 books and still have full shelves… I'm trying to cut back, honest).
Loving | I am crocheting this hat for my sister, and I totally love the pattern. I'm making it with a smaller yarn than I usually do, which has also been satisfying. It's not going as fast as projects with a chunkier yarn, but I don't mind.
Hating | I am SO BUMMED that the Vikings lost to the Eagles in such a spectacular fashion and won't be playing in the Super Bowl next weekend. I'm trying to hold on to the feeling of winning from our buzzer-beater against the Saints (Vikings fans NEVER get to be on the right side of a sports miracle), but going out in such a pathetic game ended the season on a down note.
Contemplating | The government shut down and subsequent nonsense has pushed me right up to the limit of what I can handle in politics right now. I'm conflicted though. On the one hand, tuning it out comes from a position of privilege and I feel like it's my responsibility to keep being informed for the sake of people who are deeply affected by what is happening now. On the other hand, it's also important to recognize your limits and make choices to ensure participation for when it matters most. I'm trying to figure out how to ration and focus my attention — an ongoing battle if there ever was one.
Anticipating | Tonight we're going to a game night with friends, then it's a wide open weekend. A trip to Half Price Books is probably on the horizon, but otherwise I'm hoping it'll be a lot of reading, writing, and crafting.
Happy Friday, friends!