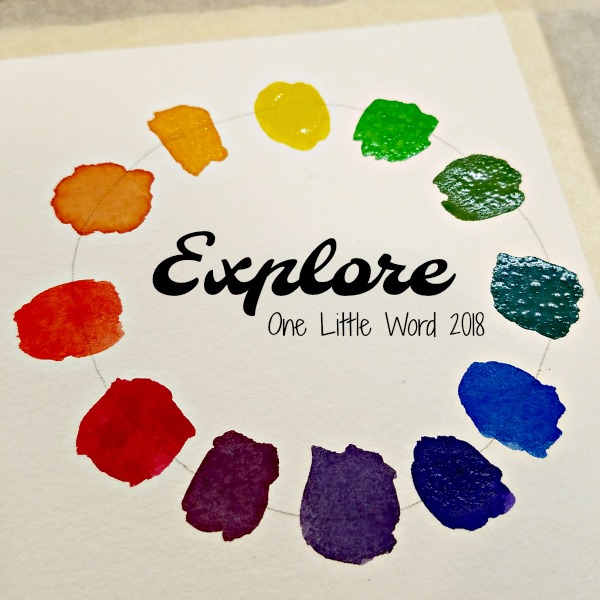 For the last several years, I've participated in a workshop called One Little Word. The point of the workshop is to pick a word to guide your year, then revisit it each month through a series of creative prompts. I'm not always great at the prompts, but I've loved the process of choosing a word and seeing where it takes me. My past words — curate, nurture, and open — have all been important and helpful and challenging in the years that I've chosen them.
I didn't really pick a word in 2017, although a word ended up finding me anyway — "persist." It was a year of putting my head down and moving forward after widowhood and unemployment seemed to throw my life entirely off course. It was a year of learning to recognize when it is time to rest, and of learning when it is time to hunker down to do the work as well as you can and for as long as you can, knowing that doing the work is the only thing we have control over. Persist is not an exciting word, but sometimes it is the best we can do.
As the end of 2017 approached, I was pretty convinced my word was going to be "present," and that my energy for the year would be on learning and relearning how important it is to be focused on and engaged with the tasks in front of you instead of fretting about what might come next. I thought that this year would be about trying to put that knowledge into action in some new and challenging ways.
But as the end of the year got closer, I kept feeling like "present" wasn't quite the right fit. I couldn't see how to stretch that word into all areas of my life, and in some areas I actually wanted to do more than just be present. I wanted to be more, to try more, to be engaged and curious as well as present.
So I went back to the drawing board. I looked through the quotes I'd been bookmarking, the Etsy stickers that I'd been saving, and the activities in my life that have been giving me the most joy right now, to see what they might have in common. Lo and behold, a theme came through and my word seemed obvious… "explore."
In late 2017, I signed up to take a watercolor painting class with my sister. I'm not artistic and I've never painted before, but I got it in my head that I wanted to try it. We found a class through a local community ed organization, bought our supplies, and started spending Monday nights in the studio.
There's so much about this decision that makes me happy. I love being a novice at something. I love doing an activity with no expectations of success, and with no consequences for failure. I love doing something tactile that uses different parts of my brain than I use in most of my other hobbies. I love that watercolor, in particular, challenges me to be patient and to accept imperfections.
I want more experiences like watercolor class. I want to give myself space to explore new things, and to see how I can give familiar things a fresh energy and perspective. I want to get off my computer and out into the world. I want to approach my new job with a spirit of constant experimentation and a willingness for things to fail. I want to declutter my physical spaces to create flexibility, and I want to settle my monkey mind so I can be open and curious. I want to be a person who feels like the world is a place worth exploring, not person who constantly worries about how the world can crumble underneath her feet. It takes a lot of faith to be an explorer, but I want to try and find that for myself again.
Each year, I tried to find a quote or manta to go along with my word and help guide the year ahead. This year's mantra comes from a Mary Oliver poem:
"Instructions for living a life.
Pay attention. Be astonished. Tell about it."