One of my goals this year was to stop buying books online and instead only buy books from bookstores. While it's only been seven weeks, I'm proud to say that I've been able to stay on track. I did buy one book online – something I needed for work and wasn't going to be able to find in a brick-and-mortar store – but otherwise I've confined my book shopping to Barnes and Noble and Half Price Books.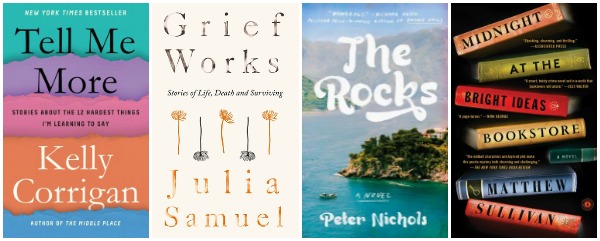 Here's are the four books that have come home that I haven't gotten a chance to read yet:
Tell Me More by Kelly Corrigan – This collection of essays all about the difficult conversations we need to have with one another is one of my more anticipated books of the year. I've been putting of starting it because I want to have time to just sink in.
Grief Works by Julia Samuel – I keep amassing books on grief and resilience, I think because reading is one of the only ways I know to make sense of senseless experiences. This one caught my eye because of the subtitle, "stories of life, death, and surviving."
The Rocks by Peter Nichols – I'm going on a trip to Mexico in a few weeks, and this book just felt like a beach read to me. It's been on my radar for awhile, so I was excited to snag a copy at Half Price Books.
Midnight at the Bright Ideas Bookstore by Matthew Sullivan – This is another book I've been thinking about for awhile. Who can resist an "intriguingly dark, twisty" novel about a mysterious suicide in a Colorado bookstore?
And here are two quick reviews of recent purchases that I just finished: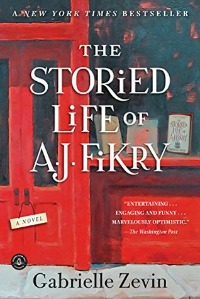 The Storied Life of A.J. Fikry by Gabrielle Zevin – I think the word I've heard most often used to describe this book is "charming." And yes, it's a very charming novel. When the novel opens, A.J. Fikry is a cantankerous independent bookstore owner, mourning the loss of his wife and the theft of his most prized possession. But then a baby girl is abandoned in his bookstore, and his whole life changes. The whole book is a love letter to books and reading and literary life, along with an emotional story about family and secrets and the decisions we make for the people we love. I read this one really quickly, but also had to put it away while reading on my lunch break due to the threat of excessive tears. It's a little on the nose in parts, but I still liked it quite a bit.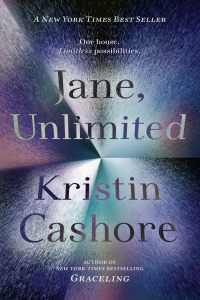 Jane, Unlimited by Kristin Cashore – After her Aunt Magnolia's death, Jane feels directionless. Her job isn't fulfilling, she's not sure what to do with her passion for making umbrellas, and she doesn't have any family to turn to for help. When she runs into a wealthy acquaintance, Jane gets unexpectedly invited to a fancy gala at a remote island mansion, Tu Reviens. When Jane arrives, her story begins to take several unexpected turns. I don't want to say more than that and ruin the surprise of this book, so I'll just tell you that I tore through this genre-bender of a novel in just a few days and loved every minute of it.