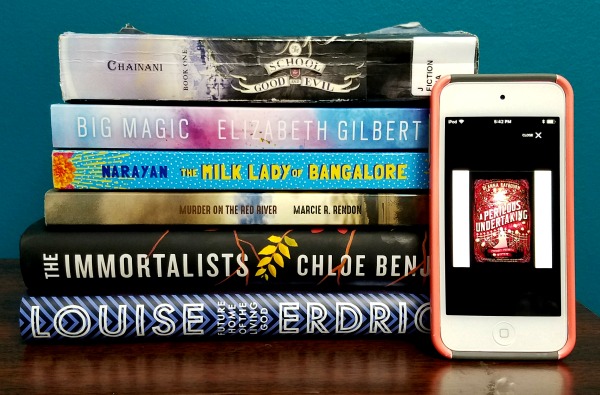 Did January feel like the longest month ever? Between the snow and the dark and the cold, it just felt like the calendar would never turn over. And yet it did, and now we're in February. Whew.
January was an interesting reading month. Other than a little planning for my first two books of the year, I think I just sort of read where I wanted to read, which was a nice mix of new books, old books, and books I picked up on a whim from my library. I also finished three tasks for the Read Harder challenge, and one audiobook, which is an excellent start to my reading goals for the year! Here's what I finished:
Future Home of the Living God by Louise Erdrich (fiction)
Big Magic by Elizabeth Gilbert (nonfiction)
The School for Good and Evil by Soman Chainani (middle grade fiction)
The Immortalists by Chloe Benjamin (fiction)
A Perilous Undertaking by Deanna Raybourn (audiobook, mystery)
The Milk Lady of Bangalore by Shoba Narayan (nonfiction)
Murder on the Red River by Marcie Rendon (mystery)
I absolutely adored The Immortalists, which broke my heart in the best way possible. I'm still trying to figure out how to write about it. Big Magic and The Milk Lady of Bangalore were excellent nonfiction reads – I hope I end up reading more nonfiction in February. If all goes as planned, I'll have quick reviews of my three Read Harder titles – The Milk Lady of Bangalore, The School for Good and Evil, and Murder on the Red River – up next week.
A Look to February
I don't have a ton of specific plans for February, other than a couple of ARCs I'd love to get through and a couple other books that are calling me at the moment.
The two February releases at the top of my list are The Line Becomes a River by Francisco Cantú, a memoir about a Border Patrol agent who is also the grandson of a Mexican immigrant, and I'll Be Gone in the Dark by Michelle McNamara, a work of true crime that's gotten a lot of buzz because the author is the deceased wife of comedian Patton Oswalt. Reviews of the book have been good too, so I'm curious about the buzz.
Because the Olympics are coming up in February, I'm itching to pick up a book from a couple years ago, Speed Kings by Andy Bull, an account of bobsledding at the 1932 Winter Olympics. I also just bought Tell Me More by Kelly Corrigan, an essay collection about the words and phrases we use to sustain and nurture the important relationships in our lives. When I read the summary, it felt like one of those books that would be important to me this year.
But we'll see what the month brings! February is short, but I don't have a ton of weekend plans, so I'm hoping I can dig in and read all the books.
What was your favorite book of January? What are you hoping to read in February?