For awhile, my favorite genre for audiobooks was celebrity memoirs, but recently I've been diving into another rabbit hole – Victorian-era lady detectives.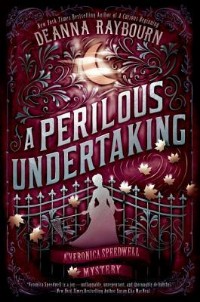 My first audiobook of 2018 was the second in the Veronica Speedwell series, A Perilous Undertaking by Deanna Raybourn, narrated by Angèle Masters. Veronica is a butterfly collector and scientist who, in this book, is commissioned by a mysterious noblewoman to save a man accused of the brutal murder of his mistress. As they try to solve the mystery, Veronica and her partner, a brooding and handsome natural historian, find themselves pulled into a world of art, debauchery, and a secret Victorian-era sex club.
Like the first book in the series, I thought this one was utterly charming. Veronica is a delightful narrator, and the chemistry she has with her partner, Stoker, is magnetic. The dialogue is snappy and funny, and works especially well on audio because Veronica and Stoker spend a lot of time talking out different scenarios for the whodunit. It's very easy to follow, which I appreciated in this format.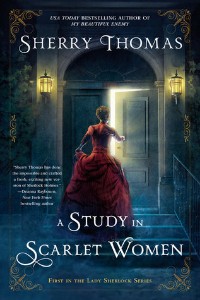 My second audiobook this year was a Study in Scarlet Women, written by Sherry Thomas and narrated by Kate Reading. It's the first in a series that reimagines Sherlock Holmes as the alias of a young woman named Charlotte Holmes, cast out from society and forced to make her way in the world using her sparkling intellect (and with more than a little help from her friends).
While I enjoyed the characters in the book – Charlotte is odd and funny, and her Mrs. Watson and friends are well-drawn – I didn't feel this audio book was quite as successful. The plot jumps around a bit, which made it difficult for me to follow along with the mystery. And because it's a Sherlock Holmes novel, which relies on a character just knowing and observing more than the rest of us, it occasionally felt like the mystery was being solved at random. I loved the relationships that Thomas set up between various characters, along with Charlotte's stubbornness to push against the constraints she faces, but just wasn't as enamored with the plot.
I'm trying to rely on my local library for my next audio selection, but I'm really not sure what lady detective to spend time with next since I'm at the end of the available books in both of these series. Deanna Raybourn has another series I might try, or perhaps I'll see what's available for my first lady detective love, Amelia Peabody. And of course I'm open to suggestions – who are your favorite Victorian-era lady detectives?