Do you love November? Do you love nonfiction? Then consider joining Julie (JulzReads), Sarah (Sarah's Book Shelves), Katie (Doing Dewey), Rennie (What's Nonfiction) and I for the fifth annual Nonfiction November, a month-long celebration of everything nonfiction.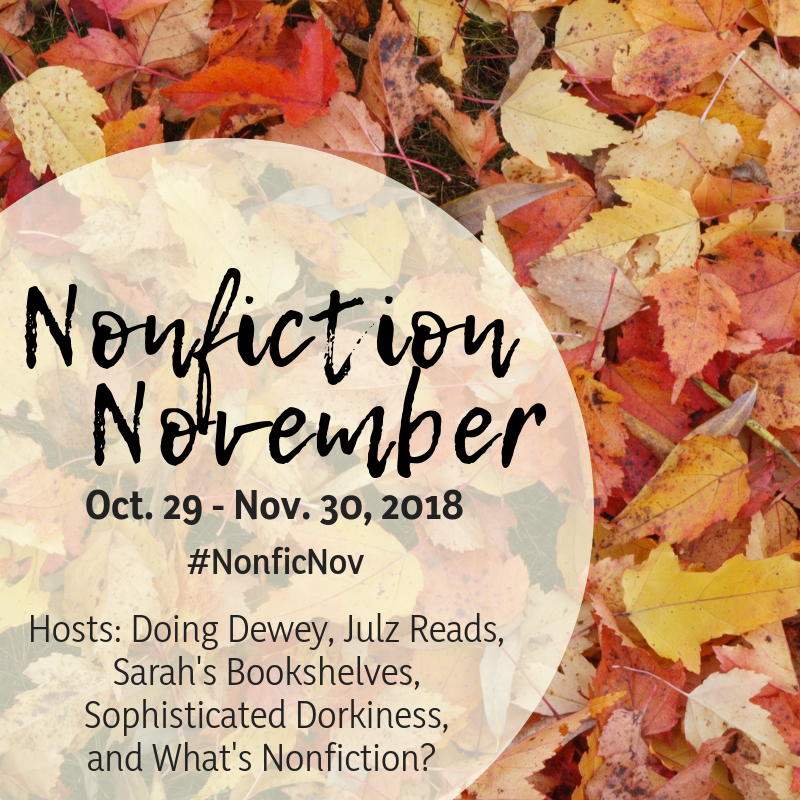 Nonfiction November 2018 will run pretty much the same way it has every year. On Monday, the week's host will put up a post with our prompt for the week where you can link up your posts throughout the week. Throughout the week, everyone can visit the linked posts to check in and comment on other posts. Here are the dates, hosts, and topics for this year:
Week 1: (Oct. 29 to Nov. 2) – Your Year in Nonfiction (Kim @ Sophisticated Dorkiness): Take a look back at your year of nonfiction and reflect on the following questions – What was your favorite nonfiction read of the year? Do you have a particular topic you've been attracted to more this year? What nonfiction book have you recommended the most? What are you hoping to get out of participating in Nonfiction November?
Week 2: (Nov. 5 to 9) – Fiction / Nonfiction Book Pairing (Sarah's Book Shelves): This week, pair up a nonfiction book with a fiction title. It can be a "If you loved this book, read this!" or just two titles that you think would go well together. Maybe it's a historical novel and you'd like to get the real history by reading a nonfiction version of the story.
Week 3: (Nov. 12 to 16) – Be The Expert/Ask the Expert/Become the Expert (Julie @ JulzReads): Three ways to join in this week! You can either share three or more books on a single topic that you have read and can recommend (be the expert), you can put the call out for good nonfiction on a specific topic that you have been dying to read (ask the expert), or you can create your own list of books on a topic that you'd like to read (become the expert).
Week 4: (Nov. 19 to 23) – Reads Like Fiction (Rennie @ What's Nonfiction): Nonfiction books often get praised for how they stack up to fiction. Does it matter to you whether nonfiction reads like a novel? If it does, what gives it that fiction-like feeling? Does it depend on the topic, the writing, the use of certain literary elements and techniques? What are your favorite nonfiction recommendations that read like fiction? And if your nonfiction picks could never be mistaken for novels, what do you love about the differences?
Week 5: (Nov. 26 to 30) – New to My TBR (Katie @ Doing Dewey): It's been a month full of amazing nonfiction books! Which ones have made it onto your TBR? Be sure to link back to the original blogger who posted about that book!
Instagram Challenge
This year we'll also be bringing back an Instagram photo challenge for Nonfiction November, co-hosted by myself (@kimthedork) and Leann (@Shelf_Aware_). We're still working out the prompts, and will announce them on Instagram closer to the kickoff. 
If you're interested in participating in Nonfiction November but don't have a blog (or are not blogging regularly), feel free to join us on the social media platform of your choice using the hashtag #NonficNov. I hope you'll consider joining us!