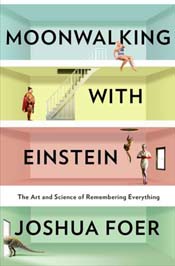 One Sentence Summary: Journalist Joshua Foer spent a year immersing himself in the art of memory, culminating in competing in the finals of the U.S. Memory Championship.

One Sentence Review: Foer's book is wonderful when exploring the ideas of memory, but lacks the same sort of passion when Foer focuses on himself and tying his experiences to broader themes.

Why I Read It: I usually enjoy books written by journalists who spend a year immersed in a quirky subculture, so this book seemed right up my alley.