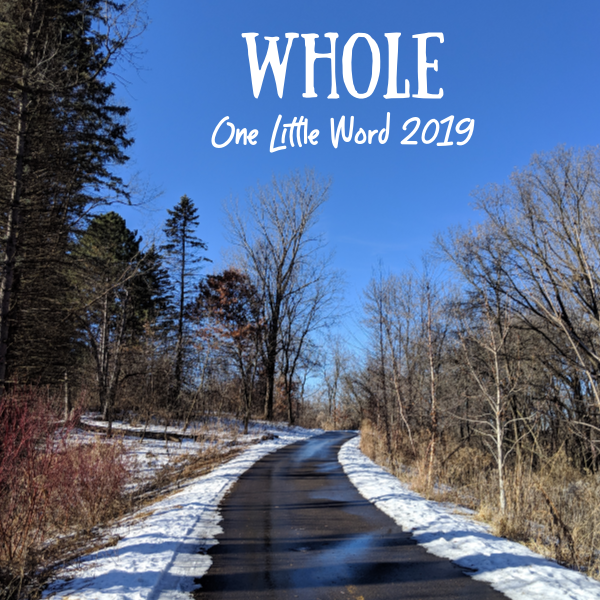 For the last five years, I've participated in a workshop called One Little Word, which asks participants to pick and live with a word through the year to see what you can learn. The workshop has monthly prompts, which I am hit-and-miss about finishing, but I've always enjoyed the process of choosing a word and seeing where it takes me.
My word for 2018 was explore. It was a good word, but one that I felt like I didn't really live up to as the year went by. Explore is such a big word, and at the end of the year everything about my life felt small. But as I leafed back through my bullet journal, wrote out my facts and feelings, and revisited my original post here on the blog, I remembered that my initial idea of explore was actually pretty narrow:
I want to be a person who feels like the world is a place worth exploring, not person who constantly worries about how the world can crumble underneath her feet. It takes a lot of faith to be an explorer, but I want to try and find that for myself again.
For whatever other ways I didn't follow through on explore, I know that I did find some of what I was looking for. I have a lot more faith in the world and in myself than I did when 2018 began, which isn't something to discount or take for granted. Explore was a good word, and I think will continue to echo into the word I've chosen for 2019… WHOLE.
Whole is a different kind of word for me. My previous words – curate, nurture, open, persist, explore – have been actions that helped provide a direction or guiding arrow. When faced with a decision, I could look to my word and ask what a person who was living that way – a curated life, an open life, a life of persistence – would choose, and then do my best to go in that direction.
This year my word feels more like a question. I want to think about what a whole life looks like, and what it means to live in a wholehearted way. Whole is an invitation to explore, just in a more focused, grounded way.
As I've been trying to think about how to explore this word and let it guide my year, I've started to lean into the idea of life as a pie chart. Because it's a circle, a pie chart is already whole. As choices are made and inputs change, the different slices of that chart start to become more or less prominent to alter the composition of the whole. It's not entirely about more or less, it's about consciously choosing less in some places to make space for more in others.
This idea is resonating with me because I think it's important to acknowledge that, no matter what discomfort I am feeling with my life now, I already have a whole life. There are no gaps or empty chunks in my pie chart, just pieces that don't feel like they fit together to create the best version of myself and my life. I want to spend the year thinking about what composition of my life helps me feel the most whole and fulfilled. How do I want my life to look different if I am living with intention, goals, and an eye to the future?
In 2019 I want more space, less clutter. More writing, less watching. More moving, less sitting. More time in nature, less time with screens. More reaching, less waiting. More focus, less distraction. More confidence, less discounting.
It feels so squishy, this word, and yet I'm really excited about it.
Each year, I tried to find a quote or manta to go along with my word and help guide the year ahead. This year, there are two quotes that have stuck with me as I've been exploring this word:
"The dedicated life is worth living. You must give your whole heart to whatever you do." – Annie Dillard
"In every atom, there is a reflection of the whole." – Jay Woodman